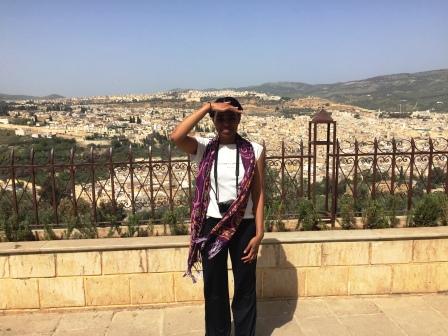 We recently got back from our wonderful trip to Fez, Morocco.  While exploring Fez, I decided to take some footage of what we saw so that I could document our journey for us to look back on in the future, and of course to share with family and friends.
The Train Ride to Fez
We took a train ride to Fez that lasted for about four hours.  At first, the train ride was really nice because we got to see so much beautiful scenery.  The train itself was climate controlled which was great because that does not happen often.  However, once the train picked up speed about an hour into the ride, I was already feeling so sick! It may have been due to the combination of motion from the vehicle and the greasy Pringles Chips that I ate.
Arriving in Fez
Once we got to Fez, it was like a breath of fresh air, literally!  The air was so clean and it was refreshing to be in a new city.  Soon after, we met with our driver and he took us to our riad.
After walking through a winding path connected to a random corridor of the Old Media we made our way to the front door of the Riad Fes – Relais & Châteaux.  You will have to check out the video to see how well the beauty of this place was captured on camera.  We checked in, got to our room and simply relaxed while we munched on Moroccan cookies and sipped traditional mint tea.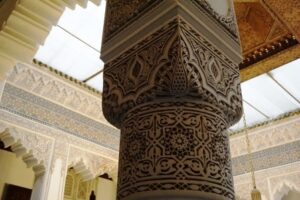 Breakfast at the Riad Fes
The next day, we decided to explore everything the hotel had to offer… meaning we searched for food. The breakfast at the Riad Fes was complimentary which was great! When we stay at a hotel or riad, we always look for free breakfast as one of the accommodations.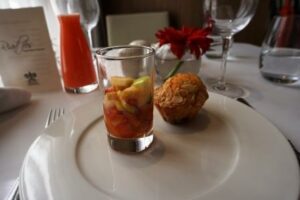 For breakfast, there was a variety of things to choose from, i.e. hot, cold, fresh, cereals, eggs, and much more! I stayed on the lighter sides and simply choose to sample their baked goods and fresh squeezed juices.
The Historical Tour
After eating, we went out into the world of Fez and met with our tour guide. First, he took us to a neighborhood that represented the Jewish and Moroccan relationships that were very important decades ago (and still important today). There was so much history that was shared with us by our tour guide and we were so impressed that such a wonderful relationship took place between the two cultures. If you are interested in learning more about these relationships, let me know and I can go into more detail!
The Best View in Fez
Next, we ventured to a place that allowed us to overlook the whole city of Fez and let me tell you, the views were absolutely breathtaking. You definitely have to go and see the city from this point of view and of course, take some awesome Instagram pictures!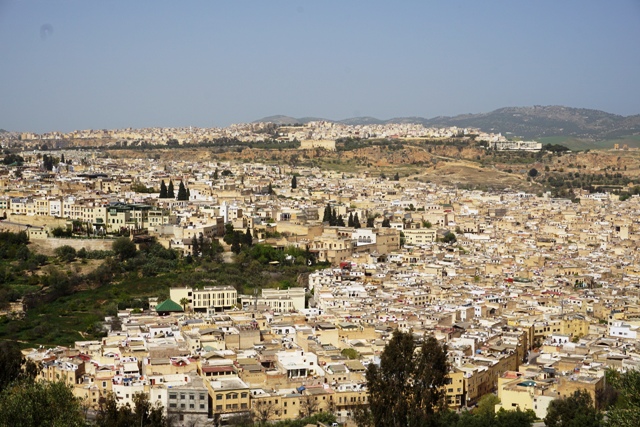 The Coolest Place in Fez
Once we finished taking in the sites, we were off to one of the coolest places on the trip. Our tour guide took us to a pottery workshop and store called Touhfas Fes (do a quick google search and don't forget to add Fez/Fes pottery in your search because it's hard to find otherwise). We watched as young men made pottery right before our eyes! They were so talented. After you go through the tour of the pottery workshop you are led to the store where they sell all of the pottery that was made in-house. Being the shopper that I am, I did pick up some new mugs and a little dish to fit the Moroccan aesthetic I have in my home.
The Fez Medina
The creme de la creme of the whole entire trip was the 3-hour walking tour of the Fez Medina. We literally saw EVERYTHING. I think the tour of the Medina was my favorite part of the trip because there was so much to see, do, and buy! We saw a lot of food being sold from buckets full of olives, trays full of pastries, stalls full of meat, and lots of fruits and vegetables everywhere. If you know me, then you know that food is life for so I was in heaven seeing all of these food items and getting to smell fabulous scents as we walked through different areas was amazing. There were so many other things we saw during our long Medina walk. Check out the last vlog in the series to see everything else we experienced.
 Do you plan to take a trip to Fez, Morocco Soon? If so, how can I help make your trip awesome?